— August Ragone, Master of Monsters (Click on text to read the entire article.)
— Florida Times-Union (Click on text to read the entire article.)
— Financial News & Daily Record (Click on text to read the entire article.)
David Durrett is the owner of
Yes You Canvas!
paint-along s
tudio in Jacksonville, Florida.
In addition to creating
every painting
used in the studio, he accepts commissions for Fine Art and commercial illustration.
Contact him at (904) 993-9047 or
david@daviddurrett.com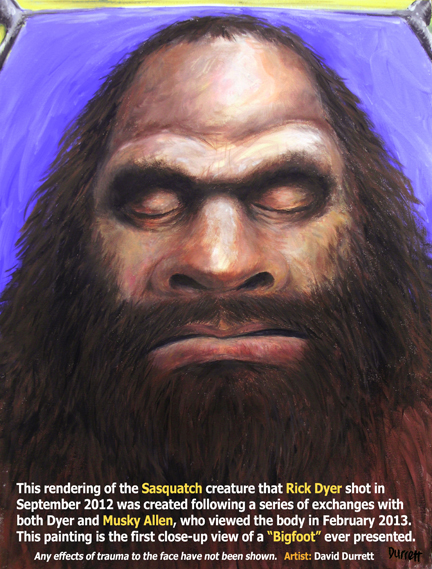 This acrylic painting of a Bigfoot cadaver is based on several interactions with Musky Allen, who related his description of the creature shot by Rick Dyer to David on March 10, 2013 for a forensic rendering in the way a police-artist sketch is created. It includes subsequent revisions following input from Rick Dyer. This image is possibly the first clear, close-up view of a Sasquatch ever presented.
Check back soon to find out how you can order prints of the painting!
To learn more about the whole story,
click here
to buy the e-book David wrote with Rick Dyer!